Auto Attendant
An auto attendant is a popular phone service feature for businesses of all sizes. Many VoIP providers charge for this feature, but at Cabertel it is included for free with all our business phone plans.
In this guide we will explain what an auto attendant is, how to get the most from it and how to configure it on the Cabertel PBX.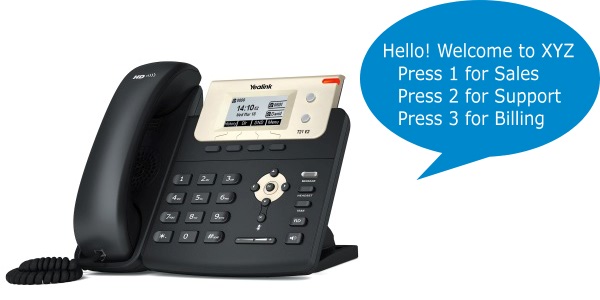 What is an Auto Attendant?
An auto attendant service is essentially an automated receptionist that is used to direct calls to the right person or department inside your company. It is also sometimes referred to as an IVR (Interactive Voice Response) or an automated assistant. This feature can remove the need for hiring a receptionist or at least free up his or her time to perform other tasks.
Rather than having a receptionist answer every phone call and transferring the call to the correct person, the auto attendant will automatically answer every incoming call and present an audio message to the caller. The caller can then interact using numeric digits in order to reach the right person or department. Sometimes there is a need for multiple attendant branches in order to cover all of the options. For example, if the caller presses 1 for support, it may go to a second level where other options are presented such as 1 for hardware, 2 for software etc.
What are the Benefits?
There are many benefits to this feature, as detailed below:
Professional appearance and will help you look like a larger company (even if you are not).
Efficient and cost effective way to route calls.
Selections can go to a ring group, such as the sales team extensions, rather than an individual extension. Ring groups are also free with our business plans.
Use time conditions to select different auto attendants. For example, day time and night time options.
Helps block telemarketing calls. It really does! Most telemarketing dialers are not smart enough to perform voice recognition and then select the correct option.
Should all Businesses use an Auto Attendant?
An auto attendant can be a useful feature for all businesses. However, we often see smaller local businesses shy away from this feature simply because they want to present a personal touch to every caller.
This is completely understandable, although there are some use cases for an auto attendant even in this scenario. For example, a towing company may want to answer every call that comes in but offer an after hours greeting. When a call comes in after hours, the auto attendant will answer and present options. For example, press 1 to reach us after hours (cell) and 2 to leave a voicemail. Cabertel has the ability to set time conditions for calls so that the path for a call changes based on the day and time.
How do I set it up?
There are a few simple steps to setting up your auto attendant, as detailed below:
First of all talk to your account manager to let him or her know you have interest in setting up an auto attendant. Cabertel will then enable this feature for your account.
Dial *98 from any phone extension inside your account.
Enter 199# to reach the auto attendant extension.
Enter the password PIN (given to you by your account manager) followed by #
Press 5 for the advanced menu option.
Enter 1 for the auto attendant greeting number.
Record your auto attendant greeting. You can listen to your recording or record again if not satisfied with it. Press 2 to save it. An example recording could be something like this: "Thank you for calling. Please press 1 for sales or press 2 for customer service. If you know the extension of the person you are trying to reach, you can dial this at any time."
Provide your account manager with the selection options you need and where they are to go to. In the example above, if 1 is pressed you may want it to go to a specific extension number or a ring group for your sales team. Likewise for option 2. If no selection is made we can play the message again and eventually go to voicemail or a specific extension.
Want something even more professional? We can help you get professional recordings and background music if this is of interest.
Next Steps
If interested in adding an auto attendant to your account simply contact your account manager. If you are not a Cabertel customer, simply use the form below and we will contact you promptly.