Cabertel Reliability and Security
Reliability and security are of paramount importance to Cabertel. Your business has high expectations when it comes to up-time and security for your communications and we take this very seriously.
During the architecture of our phone system we built-in various levels of redundancy and security. In this article we highlight some of the steps taken to keep your phone service running smoothly and securely under all conditions.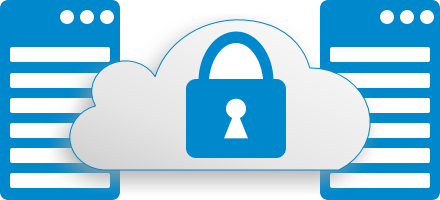 Reliability
First, let us address the steps we have taken to ensure high reliability.
Multiple Geographically Dispersed Servers
Cabertel runs multiple servers to host our PBX (Private Branch eXchange) software and we have distributed these servers across multiple geographical locations, and in some of the largest data centers in the world. This gives us the ability to mitigate disasters in specific areas of the country. We also made a point of hosting our website on a different server from our PBXs so you can always contact us in the unlikely event your phone service has problems.
Active Monitoring and Fail-over
Cabertel has independent software monitors running to detect any issues such as an unresponsive PBX server. If an issue is ever detected we can perform an automatic fail-over to a server in a different data center. Employing fail-over mechanisms means that if something happened to a PBX server you should be down for no more than a few minutes - basically the time it takes for your phones to register to the new server. We also monitor various call quality metrics to ensure crystal clear audio.
Cabertel is partnered with multiple, enterprise grade, voice carriers for connection to the Public Switched Telephone Network (PSTN). We pay for premium best quality routes rather than Least Cost Routing (LCR) and your calls are routed through Tier 1 carriers such as Level 3. These partnerships also enable us to offer local number porting and the ability to purchase new phone numbers anywhere in the country and indeed Internationally. Cabertel can also support Toll free numbers.
All data centers have multiple tier 1 and 2 Internet connections for redundancy and have power feeds from multiple power substations with automatic re-routing and fail-over. This ensures that our PBXs have exceptional up-time and no single point of failure.
Server Hardware and Software Monitors
Cabertel servers use high performance Intel processors with CPU and RAM utilization monitors to ensure your call always get through. All PBX servers have RAID configured on disk drives, for redundancy, meaning your extension information, Call Detail Records (CDRs), fax and voicemails are protected.
Security
We will now look at some of the steps we have undertaken to keep your service secure.
All our servers reside in data centers that have 24x7 site security.
Whenever your phones connect to the Cabertel servers in order to provision the phones with user and password information, all data is encrypted using 2048 bit keys. This keeps your information safe so nobody can sniff your connection and steal user and password information for your phone extensions.
Cabertel has incorporated multiple fraud prevention mechanisms on our PBX software. This software performs rule checks on all incoming and outgoing calls to ensure they are indeed coming from authorized sources. This prevents unauthorized users from making calls on your account.
Access Control for Phones and Portals
We have user and password protection on all phones to prevent unauthorized access. Our website portal is the place where you can access certain phone service features (such as Call Detail Records, call blocking etc). These portals are secure, fully encrypted and have group and individual access controls. This enables you to give different access levels to users within your company. For example some may only access basic features while others can have a wider set of features such as Internet fax and multi-way conferencing.
International and Premium Number Blocks
All International outbound calling is disabled by default. Likewise access to premium 900 type numbers are disabled. This prevents someone from running up huge costs on your account. Of course we can open these up on a customer by customer basis.
Conclusion
Hopefully this article has helped show you some of the steps we have taken to ensure a highly reliable and secure phone service. We take this very seriously and value your business and hope this gives you peace of mind. Please also keep in mind that we have no control over the quality of your Internet connection and internal network. We have written a network best practices document which contains useful information on optimizing your internal network for VoIP. Ask your account manager for further details.