Paging and Intercom
Certain types of businesses need the ability to page employees over loud speakers and some may also find intercom capabilities useful, in order to communicate without the need to actually call a phone extension. Both paging and intercom features are related and in this article we discuss each feature and certain use cases we see with our customers.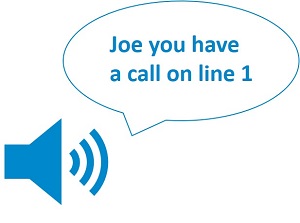 What is Paging?
Paging is simply the ability to press a button on your phone and relay a message to your employees or customers through a speaker system. In its most basic case the speaker system is simply the loud speakers on each of your phones. The message is one-way audio and will only be played through the speakers of phones that are not currently on a call.
Advanced Paging - Snom PA1
For businesses that have larger spaces, often the speakers on the phones are not loud enough to get the message to everyone. For scenarios such as this a more advanced speaker system is usually required. We have had a lot of success with customers by using the Snom PA1 public address device, as shown in the image below (no speaker shown). This device is essentially just another VoIP phone extension but it has the ability to auto-answer calls and the audio is passed through a built-in 4 Watt, Class D power amplifier to an external speaker. The volume can be set using a basic Web browser and the audio is loud and of course great quality since the audio is digital all the way to the Snom PA1 device.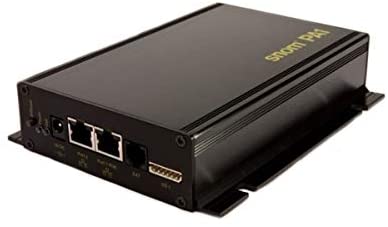 Paging Use Cases
For our customers, we typically see the paging feature used in the following scenarios:
Warehouses. Not every employee has their own phone so paging employees through the speakers on the phone and through an optional Snom PA1 device and external speaker can be helpful. If a call comes in for a warehouse employee you can park the call and page the warehouse to say that a call is available for them.
Grocery stores are another popular place for paging systems. Often you will hear things such as "clean-up on aisle 1" when you are in a grocery store. This is using a paging system.
Automotive shops. Similar to warehouses, paging can be very useful for automotive shops to tell mechanics they have a call for them or a visitor at reception.
What is Intercom?
Intercom is just a way to communicate between phones without having to ring the phone first. It can be one way audio, which really is more like a basic page, or two way audio where it's a regular call but without ringing the phone first. Simply press a feature button on the phone and you can intercom one or more phones, instantly. Like paging the intercom will not work on a phone if that phone is already on a call.
Intercom Use Cases
Some of the ways our customers use the intercom feature are as follows:
Administrative assistants and their bosses like to use intercom as a quick way to communicate without them having to ring the phone. Press a button on their phone and the boss is immediately communicating over the speaker of the administrator's phone, and vice versa. It can be a really quick and productive way to get answers to basic questions, especially if you are not in the same office.
Small automotive shops sometimes use intercom rather than paging as a quick way to ask if a car is ready.
Smaller design teams seem to like intercom as a quick way to get answers to questions during the business day, without having to ring the phone. The sound of a phone ringing throughout the day can be annoying to designers and act as a distraction.
Next Steps
If you feel that these features could be useful to your business let your account manager know and they can determine how best to set this up for your company. Nearly all of our desk phones support paging and intercom and even if you have no spare feature buttons on your phone, it can still be done by simply dialing a feature code. Your account manager can remotely program your phones to configure these features.
If you are not yet a customer but interested in learning more, use the form below and we will get back to you promptly.