Web Portal
The Cabertel secure online Web portal, also sometimes referred to as our VoIP panel or our dashboard, can be used to access many of the features we offer our customers. If you need to forward calls, check voicemails or send faxes or access many other features you do this by logging into our Web portal using a standard Web browser.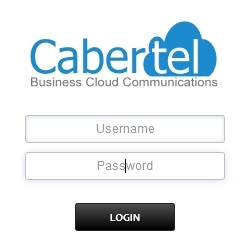 What is the Web Portal used for?
Here are just some of the ways customers use our Web portal:
Voicemail: You can access all of your voicemails, listen to them, delete old ones, download or even select different voicemail greetings. If you have speech to text transcription enabled for voicemails you can also read the voicemails in your portal.
Call Forwarding and Follow Me: You can forward your business calls to a cell phone or other phone number or use FollowMe. We always recommend using the portal for call forwarding rather than your desk phone, as detailed in the next section.
Internet Fax: All received faxes are sent to your email address automatically but to send a fax you will use your portal. You can view all sent and received faxes in the Web portal.
Do Not Disturb (DND): You can set DND in the portal for times when you are busy and all of your calls will go straight to voicemail. You can also use the DND on the phone for this functionality.
Block Calls: You can block calls by selecting recent calls that you know are from telemarketers and the likes.
Operator Panel: View the status of calls in the operator panel, if you have this feature enabled on your account. This can be a useful tool for managers as you can see who is busy on a call or who is not answering incoming calls etc.
Call Recordings: Access recordings of your phone calls, if this feature is enabled on your account.
Ring Groups - Time Conditions - Call Flows - Extensions - Devices etc: In most cases you will not have access to these features as your account manager handles them for you to save you time and reduce risk. However, they can be made available to you if you need them, just be aware that these features can affect your service greatly if configured incorrectly.
Do I have to use the Web Portal?
No you do not need to use our Web portal, in fact many customers do not. You can access voicemails directly from our desk phones and you can forward calls on the phone rather than the portal. However, if you do a lot of call forwarding we usually recommend using the portal rather than the phone as it is further upstream in the data path. In other words, if you set forwarding on your phone and your power or Internet goes out, the phone cannot forward your calls. The call forward in the Web portal resides on our servers and would forward your calls even if you have no power or Internet service at your business location.
How do I Access the Portal?
Your dedicated account manager will provide the Web address for accessing your portal, along with initial credentials such as a username and password. The password can be changed after your first log in.
Next Steps
If you are a customer and would like access to your Web portal or have forgotten your portal details ask your account manager and he or she will get you set up. If you are not a customer but would like to learn more, use the form below to contact us and we can advise on next steps once we know your requirements.